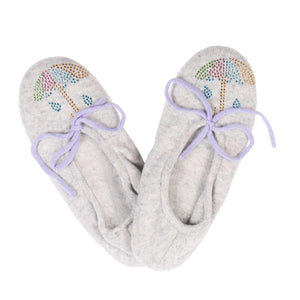 Adeela Salehjee
Adeela Salehjee Umbrella Cashmere Slippers
Regular price
$98.00
$0.00
Experience unparalleled comfort and luxury with this limited edition Adeela Salehjee Umbrella Cashmere Slippers. Crafted with the softest cashmere, anti-slip sole, and featuring a delightful lavender adjustable bow cord and colorful crystal umbrella motif, these slippers promise to be a much-treasured addition to any wardrobe. Enjoy unrivaled comfort and a touch of sophistication with these exquisite cashmere slippers. The perfect pack up and go travel companion to keep your feet cozy whether at home or jetting off to your next adventure.  
Made of 100% cashmere.
Meet the Brand:
Adeela Salehjee was founded in London in 2016, specializing in versatile, modern, timeless pieces with a focus on working with natural fibers. Cashmere, merino wools, baby alpaca and cottons remain central, sourced from hand-picked, sustainable suppliers around the world. The driving force is to create beautiful pieces while remaining mindful of how the creation of each design affects the environment.
---
Share this Style
---