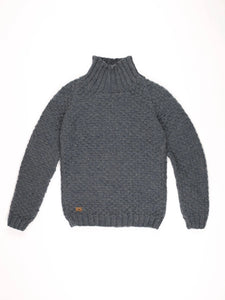 Fuza Wool
Fuza Wool Butterfly Turtleneck Sweater
Regular price
$188.00
$0.00
This wonderful wool sweater is hand knitted by skilled Nepalese women in their own homes. It is knitted using 100% pure and soft merino wool. Wool helps naturally regulate temperature, and for that reason the sweater can be used both on cold winter days and cool summer nights.
The yarn has not been colored, so that you can see the natural nuances in the wool.
Wool is a natural and sustainable material, which is 100% biologically degradable and very durable. It is both breathable and anti-bacterial, which means it rarely needs to be washed.
The sweater can be hung on a rack or hanger overnight on your balcony or terrace, so long as it is kept in shelter from rain. By airing the sweater out in this manner, it will be fresh and ready to wear again.
The sweater is produced under conditions that are both fair and transparent. A part of the profit from our sales is donated to help poor children in the local area get an education.
Made exclusively in Nepal. Available in Silver Blue.

Yarn composition 100% Merino Wool
Small = US size 2-4
Medium = US size 6-8
How to care for your product:

All our products are handmade from 100% natural lambswool or Merino wool from New Zealand and the wool naturally contains lanolin which gives it a natural cleaning effect. It still has these natural effects even though it's no longer on the sheep.
Therefore the best solution for caring for our wool products is to just simply place them outside to air which then starts the natural cleaning process and the wool will keep clean like that for quite a while depending on how much it's being used. When placed outside in the air all kinds of smell coming from food, smoke or what not then will go away within a short while. If you obtain small stains here and there from for example food or such then you can just handwash the product with a bit of wool soap in cold water right by the stain instead of washing the entire product.
Meet the designer:
Fuza Wool is a Danish family business. The Fuza Wool journey began with the founders' wanderlust, curiosity and desire to use the whole world as a creative work space. On our travels we met and were inspired by local craftsmen and women, who for generations have nurtured and passed down their fine traditions in hand knitting. With our own proud Nordic design traditions, we respectfully blended inspiration from the East, a love of nature and outdoor living and the Danish concept of 'hygge', and Fuza Wool was born.
---
Share this Style
---