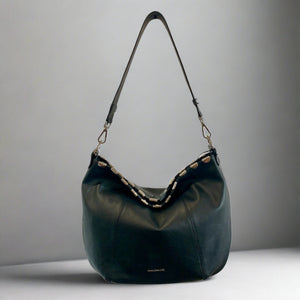 Berge
Slouchy Leather Bag
Regular price
$395.00
$0.00
Editor's Notes:
The slouchy effect of this generous sized Italian leather hobo bag is accentuated by silver half circle trim along the top edges. The white leather strap is removable and attaches to the bag with silver O rings. This roomy bag is big enough to house all of your daily essentials. 

White or Black leather 
Zipper opening
Inside sipper pocket
Two sewn in pockets on inside

Length 16" x Height 13.5" x Depth 4"



Made in Italy

Style 1228
Meet the Designer: 
Bergè leather bags and belts are 100% sourced and made in Italy by local craftsmen. Their products embody the quality that one expects from goods stamped with 'made in Italy'. They combine high end metal hardware with luxurious leathers and strong design details to create bags and belts that will stand the test of time. 
---
Share this Style
---