• Eco-Friendly • Merino Wool • Slow Fashion • Sustainability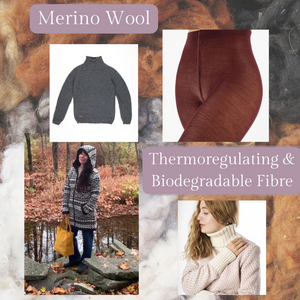 Thermoregulating & Biodegradable Fiber Merino wool is a natural fiber that is environmentally friendly, biodegradable and an excellent thermoregulator. Naturally lighter and softer than any other wool, Merino wool is easy to wear next to skin and keeps your body at a comfortable temperature in any weather conditions. Through a process known as "absorption", the fabric absorbs humidity and retains heat when temperatures are cold and humid. Conversely, when it's hot, the wool uses the "evaporation" process to release humidity, making the body feel cool. Given these outstanding qualities Merino wool is sought after in the textile world and is...
---
• Hand Made • Independent Designers • Merino Wool • Sustainability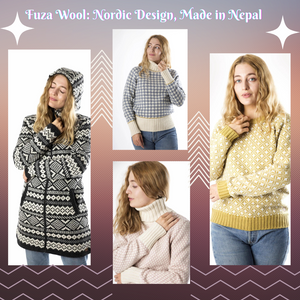 Handmade Merino Wool Sweaters  When you purchase a wool sweater, wool jacket or wool cardigan from Fuza Wool, it comes with a quality guarantee. All of their knitwear is made by local craftsmen and women from countries like Nepal, working under fair conditions. This ensures that every product is handmade with the local knitwear traditions that have been passed down through several generations. This means that their products are not mass produced but handcrafted – and with every purchase you help support the local economy in the area, where the product has been produced.  The Fuza Wool Journey The Fuza...